When you've been charged,
Let us provide you
unrelenting, aggressive representation.
Attorney Albert Levin Will Help You Stand Up for Your Rights
Criminal Defense Attorney Serving Miami, FL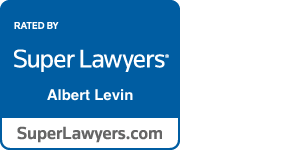 Albert Z. Levin
Attorney at Law
Albert Z. Levin is an experienced trial lawyer who has represented individuals throughout the United States since 1985. Prior to 1985, Mr. Levin served as a State Court prosecutor in Miami, Florida. The Law Offices of Albert Z. Levin, P.A. vigorously defends clients who are accused of criminal wrongdoing. The firm routinely represents individuals charged in criminal cases in both Federal and State Court throughout the United States and elsewhere. His experience working as a prosecutor gives him vital knowledge and insight into how the "other side" thinks. As a result, he can keep your defense one step ahead of the prosecution by using his unique ability to predict what strategies the prosecution will use against you. Albert Z. Levin's mission is to provide unrelenting, aggressive representation in every matter he handles. Call Albert Z. Levin, P.A., today to schedule a free consultation.
MORE ABOUT ALBERT
Outside-the-Box
Legal Strategies
Providing Creative and Personalized Legal Services to Help Your Case
Passionate Defense
With Albert Levin you can count on an aggressive and experienced trial attorney. Our firm always provides effective and relentless representation regardless of what you have been charged with.
Communicative Collaboration
Good lawyers always act in the best interest of their clients — without exception. Our commitment to constant communication throughout every phase of the process will increase your chance of success.
Results-Driven
Throughout the past four decades of practicing law, our firm has earned an excellent reputation for success both inside and outside of the courtroom. We'll pursue the very same for you and your case.
Legal Guidance for the Criminally Accused
If you have been charged with a crime in the Miami area, it's important that you contact a criminal defense attorney as soon as possible. Regardless of what you've been accused of, do not speak to the authorities unless your lawyer is present. As a criminal defense attorney with over 35 years of experience, Albert Levin knows how to use evidence and witnesses to your advantage in the courtroom. Better yet, his strategies may even eliminate the need to go to court in the first place.
In the event that you have been arrested for a white-collar crime, such as medicare fraud, identity theft, or money laundering, Albert is the attorney to work with. You'll need an attorney like Albert in your corner at every turn.
Drug offenses and violent crime charges can make anyone question what is going to happen to their future. Albert's job as your attorney is to be your voice in the courtroom so you are treated fairly and equally in the eyes of the criminal justice system. His mission is to get you the best result possible.
Our goal is to be an advocate for those who don't have one. Albert will vigorously fight to achieve for you the best possible result. In addition, his firm represents individuals injured as a result of the negligence of others including car accidents, wrongful death, and medical malpractice. No matter what legal guidance you need, call Albert Z. Levin, P.A., in Miami, Florida today to schedule a free case consultation. Put his extensive experience on your side today!